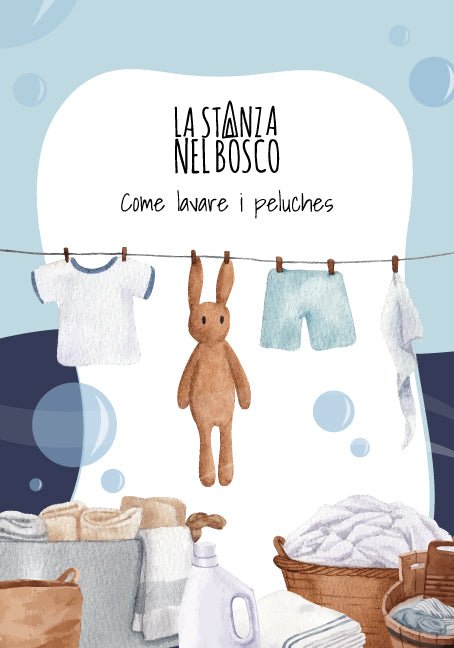 Soft toys are among the games that follow the growth of children step by step; from the first days of life they become their faithful companions, to whom they will always remain attached. Every adult has in mind, among his memories, his favorite, the one he always carried with him or that accompanied him in a sweet sleep.
Precisely because they are among the most loved toys, they are the ones that get dirty more easily: the little ones just can't separate themselves from them, they take them everywhere and keeping them clean is essential, given that very often they remain with them even during bedtime. Not only stains, however: soft toys attract a lot of dust and for this reason washing them often is a fundamental practice. In the most extreme cases of poor hygiene and a particular sensitivity of children, diseases could arise and make allergy sufferers or asthmatics feel ill.
Here are some useful indications for correctly washing puppets and plush cushions .
How to wash soft toys: better by hand or in the washing machine?
The constant doubt of mothers is how to clean these soft toys. The first uncertainty in washing concerns the fear of ruining their silky appearance. The choice between hand washing or washing in the washing machine depends on several factors:
Degree of soiling of soft toys
How many times has it happened to find toys under the bed, in the garden, in the backpack, in the car? Day after day, puppets get dirtier and dirtier and stubborn stains would be hard to wash by hand. In this case, choosing to use the washing machine is the best solution to achieve sparkling clean results.


Quantity of cuddly toys to wash
Is starting a wash cycle for a few soft toys really worth it? Especially if they are small puppets, it could be convenient and quick to wash them by hand, without having to wait for a substantial load to clean them all together.
Types of soft toys
Some puppets contain electronic devices, music boxes and the like: in this case, washing in the washing machine is to be excluded because they could be damaged and break your device. By now all washing machines have programs for delicate items but if you really don't want to risk it, you can opt for hand cleansing.
Hand wash soft toys
To best clean the cuddly toys by hand, use a delicate detergent and immerse the puppets in a basin of water for about 15 minutes. Rinsing should be done with warm water and then gently squeezed. In this case, we must consider that drying will take much longer, even a few days, because we will not be able to squeeze like a washing machine spin.
Machine wash soft toys
As we said, today all the appliances on the market have specific washing programs for delicate items among their programs. We can therefore rest assured that our fluffy friends will come back as good as new.
As always, however, some small precautions are necessary before proceeding with washing. Always pay attention to the labels, which indicate the correct program for washing each cuddly toy. Another useful tip is to put them inside a pillowcase or a cloth bag as protection, so that no one can get damaged. As with the clothes, be careful when mixing the colors of the soft toys and don't use a spin that is too high, at most 400 rpm. The temperature must also be weighted, always following what is written on the labels. Some soft toys may require washing at low temperatures (20°), others at 30/40°, optimal temperatures also for their sanitizing power. In the case of washing at low temperatures, it is possible to add half a glass of vinegar, which will act as a natural disinfectant and will prevent the puppet's fur from hardening and felting. Last and not least, it is recommended to use an ecological detergent or, otherwise, a half dose of what you would normally use. In fact, many products contain substances that can cause allergies, therefore in the case of delicate garments, an overdose of the product could have the opposite effect and ruin them. The formulation must always be liquid and not in powder form, to avoid leaving residues.
Dry clean soft toys
When it is not possible to proceed with a more accurate washing in the washing machine, we can cleanse the puppets through dry cleaning, using natural products. In fact, it is not enough to beat them and brush them, but there is a need for an additional step. First of all we can use the vacuum cleaner for an initial cleaning and then prepare a quick and cheap emulsion to make them perfectly sanitized. After having carefully brushed the puppets, you will have to place them in a plastic bag for clothing with an airtight seal. It will then be necessary to add a spoonful of bicarbonate and one of salt for each soft toy contained in the bag and a few drops of tea tree oil . Shaking the bag vigorously will allow the powders to wrap the soft toys and, at this point, it is necessary to let them rest for about 2-3 hours. A new brushing will eliminate the residues and voilà , this cleansing will make the soft toys like new. In any case, when you have little time available, you can shake/vacuum the puppets and clean them quickly with a damp cloth, in order to avoid excessive accumulation of dirt and dust.
How to keep stuffed animals soft
Frequent cleansing, as we know, could cause us to lose one of the characteristics of our beloved toys, their softness. Don't worry because, even in this case, a little trick can make them silky again. The soft toy will be immersed in a basin of cold water, without making foam, for about an hour. When rinsing, you can use a light softener, always better if natural, given the direct contact that the puppets have with children and let them dry in the open air, avoiding direct sunlight.
How to best dry stuffed animals
After washing, make sure you dry the soft toys perfectly: those who have the appropriate appliance at their disposal will certainly have an advantage but other methods will be just as effective.
Once out of the washing machine the puppets, which are normally very light, will be very heavy and the padding inside will be full of water. Spreading them correctly and with care will allow you to reduce drying times, ensure that they keep their shape and, finally, that they do not discolour. The first indication is to spread them lengthwise, changing the position of the clips during drying. This way, no unsightly marks will be visible. Yes to exposure in hot, sunny and ventilated outdoor areas such as the balcony or terrace, while direct sunlight should be avoided. In fact, they could easily lose color. In case of drying indoors, you can bring the soft toys close to the radiators but not to the heat of the hairdryer or iron which could irreparably damage such delicate fabrics. The same precautions are also useful for plush cushions , embroidered cushions , fabrics to be treated with extreme care. However, it could take more days depending on the size of your puppet.
However, it is good to make sure that they are cleaned frequently, without opting for machine washing only when they have become too dirty. In fact, in every crevice and inlet, day after day, grains of dirt, organic matter and dust mites lurk and it is essential to avoid an excessive accumulation.
Few and constant precautions help to sanitize soft toys correctly and in a short time: these toys, so loved by our little ones, companions of a thousand adventures, will always be clean and, above all, they will not become a danger to their health.

Buy quality products such as handcrafted cushions Lastanzanelbosco will allow you to have unique and exclusive objects which, treated with care, will always remain as new. To best cleanse these soft fabrics, you can program a wash with a maximum temperature of 30° (without using bleach) and a short spin cycle. It is recommended not to use the iron, nor the tumble dryer and dry cleaning to preserve the cushions, a piece of furniture in the bedrooms and companions of our children at any time of the day.